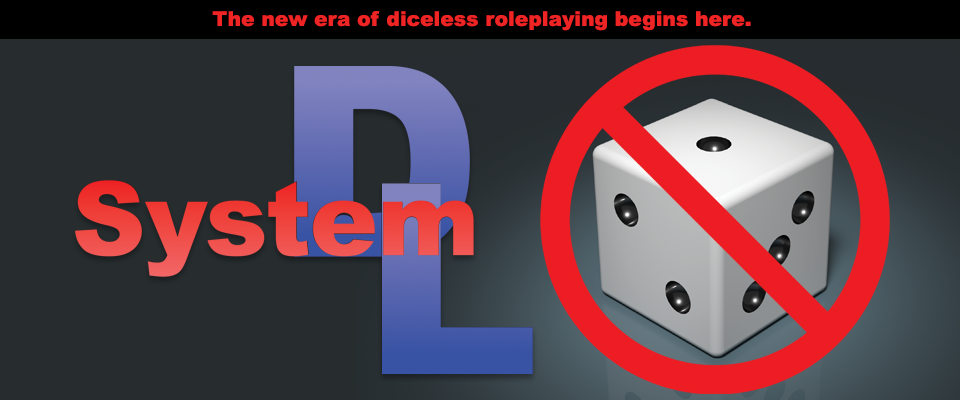 System DL Manual and Player's Field Guide
Welcome to System DL, a new direction in role-playing! System DL is a completely diceless tabletop role-playing system which plays like the old diced games everyone's used to. After all, if, as Einstein once said, God doesn't play dice with the Universe, then why should you?
System DL includes a high-speed character generation system which creates balanced, well-rounded characters with actual backgrounds, not just numbers on a page. Game play is blindingly fast, since there are no dice to chase around. Play online, in a comfortable chair, or on a cross-country trip, in places you never considered before. Take the fun wherever you go with System DL!
The System DL Manual and Player's Field Guide contains:
The Ten-Minute Character Generation System
Comprehensive, flexible, hackable rules with extensive examples
Vehicle rules
Magic (that is, rules about magic, not literal, y'know, magic. Unless you mean the magic of imagination. Which you probably didn't.)
Equipment and weapons stats for games of all types and technological levels
Just lots of everything, really
SPECIAL NOTE: System DL is a system, not a complete tabletop game out of the box. System DL is designed to allow enterprising gamemasters/DMs to streamline existing game worlds or create their own, but some elbow grease will be required.
ABOUT THE GAME
Players: 2 and up
Recommended age: 12+
Length: Varies per session
Page count: 64
Purchase
In order to download this game you must purchase it at or above the minimum price of $2 USD. You will get access to the following files:
System DL Manual and Player's Field Guide.pdf
786 kB